PCOS is the most common hormone imbalance impacting women and teenage girls. Polycystic ovarian syndrome, meaning "multiple ovarian cysts" can start soon after puberty and can persist for years. For some women it starts later – but for all women and teenage girls, it can be an incredibly frustrating, and sometimes painful condition.
WTF is PCOS?
Ovarian cysts occur when ovulation doesn't occur as it is supposed to. In every cycle each ovary stimulates a number of follicles to develop, one of which will release an egg at ovulation. In PCOS the follicles are stimulated to grow (totally normal), but they do not respond to the hormonal cue to release an egg at ovulation. Instead they continue to grow and form cysts within the ovary.
There are many reasons why you may not respond appropriately to the hormones and instead form ovarian cysts – you can learn more about the types of PCOS in this article.
How Do I Know If I Have PCOS?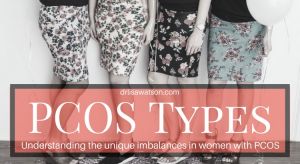 I talk about the diagnosis of PCOS in this article, but these are the most common symptoms that may suggest a diagnosis of PCOS:
Irregular or absent periods
Infertility
Hair growth on the upper lip or chin
Hair loss from the head
Acne – especially on the body or on the "beard distribution" of the face
Weight gain or excess weight around the abdomen
If you have a family member with PCOS, you are more likely to develop it. So talk to your mom, sister, aunts and grandmothers to see if you have a family history.
If you suspect you may have PCOS, then discuss it with your MD or ND and get an appropriate diagnosis.
What Causes PCOS?
PCOS is the result of failed ovulations – so the cause can be anything that disrupts healthy ovulation. Hormone imbalances stemming from the pituitary gland, the thyroid, the adrenal glands or pancreas can all cause PCOS. Insulin resistance – when your cells no longer respond to the hormone insulin – is probably the most common hormone imbalance that leads to PCOS.
How is PCOS Treated?
In conventional care, PCOS is most often treated with the birth control pill. Other choices, like spironolactone or metformin, are also suggested if acne or insulin resistance are present. However, many women are successfully choosing a more empowered approach to treating their PCOS through diet, exercise and some health supporting supplements.
Diet and Lifestyle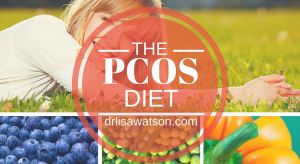 While not every woman with PCOS is overweight, if you are, losing weight is an important goal. Losing as little as 5% of your body weight can reverse insulin resistance, promote ovulation and decrease testosterone (less acne and chin/lip hair!)
I go into great detail on the basics of the PCOS Diet in this article – also available as a fun infographic! Check it out for all the information you need.
Vitamins and Minerals
Many different supplements can be used for managing PCOS. These are best selected by working with your ND – knowing what your hormone imbalance is will allow you to choose those supplements most likely to work for you. Here are a few of the most helpful options:
Vitamin B6 – can help balance prolactin levels, a hormone often elevated in PCOS.
Chromium – essential for proper blood sugar regulation. Taking chromium (also known as insulin tolerance factor) increases the uptake of glucose into cells, decreasing insulin resistance.
Vitamin D – essential for healthy ovulation. Every Canadian is deficient during the winter months, and supplementation is often needed to correct that deficiency.
Herbal Medicines
Plant medicines can be incredibly powerful medicines, especially when it comes to supporting hormone balance. It depends on your type of PCOS what herbal medicines may be recommended.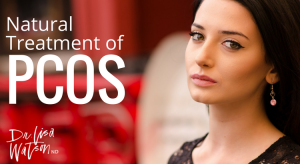 Saw palmetto (Serenoa repens) – an incredibly effective hormone balancer, saw palmetto decreases the conversion of testosterone to its more powerful form, dihydrotestosterone (DHT). This makes saw palmetto an excellent choice in the treatment of acne, hair loss, and facial hair growth.
Chaste tree (Vitex agnus-castus) – one of the best known herbal medicines for PCOS, chaste tree lowers prolactin levels and raises progesterone levels. It can also restore regular ovulation, the main issue in PCOS!
Other Natural Supplements
A few honourable mentions are necessary in any discussion of PCOS – treatments that have excellent research and deserve to be considered in any woman seeking a more empowered approach to her PCOS.
Inositol – a B-like vitamin, inositol has many benefits for PCOS – it decreases insulin resistance, decreases testosterone levels and helps to promote regular ovulation. It is a super-star for PCOS treatment.
Berberine – compared in studies to metformin, berberine has powerful actions on blood sugar regulation and insulin resistance. It can reduce testosterone, and androgens. Women taking berberine also achieved greater weight loss in some studies.
Next Steps
Knowing that there are a great many different options for the treatment of PCOS, some women can feel overwhelmed by information. This is one of the many benefits of working with a Naturopathic Doctor. Your ND can help you understand your individual hormone imbalance and guide you to the treatments that will be most effective for you.
Remember, any hormone imbalance will take time to resolve. Start taking the steps now to achieve your healthy hormone balance.
Disclaimer
The advice provided in this article is for informational purposes only.  It is meant to augment and not replace consultation with a licensed health care provider.  Consultation with a Naturopathic Doctor or other primary care provider is recommended for anyone suffering from a health problem.