Improving outcomes in women undergoing fertility treatments is the focus of many research studies. One specific antioxidant is showing promise in clinical studies of women with polycystic ovarian syndrome (PCOS).
N-Acetyl Cysteine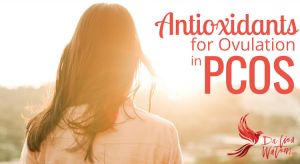 N-Acetyl Cysteine (NAC) is a precursor for the primary antioxidant in the human body, glutathione.  Glutathione is both an intracellular (in the cell) and extracellular (outside the cell) antioxidant and is involved in DNA synthesis and repair, free radical scavenging, metabolism of toxins and carcinogens, and preventing negative effects of aging.
Despite it's impressive benefits in the human body, glutathione is not useful as an oral supplement because it is inactivated by enzymes in the gut.  Glutathione is also not able to cross cellular membranes, preventing it from being uptaken into cells.
Luckily, N-Acetylcysteine is able to be absorbed in the digestive tract, and can easily cross the cell membrane and is converted within the cell to glutathione.
NAC and Clomid for PCOS
A study published in the Journal of Obstetrical and Gynaecological Research looked at the combined use of clomiphene citrate (Clomid) and NAC in women with PCOS and compared to Clomid alone, found significant improvements in:
Number of follicles >18mm
Mean endometrial thickness
Ovulation rates
Pregnancy rates
No adverse effects were seen and no cases of ovarian hyperstimulation were reported.
Hope for PCOS
While the results from this study of 180 women are preliminary, the impeccable safety profile for NAC and the promising findings in multiple parameters (number of follicles, endometrial thickness, ovulation and pregnancy rates) suggest it may benefit women with PCOS, especially in combination with Clomid.
Disclaimer
The advice provided in this article is for informational purposes only.  It is meant to augment and not replace consultation with a licensed health care provider.  Consultation with a Naturopathic Doctor or other primary care provider is recommended for anyone suffering from a health problem.
Selected References
Salehpour S, Sene AA, Saharkhiz N, Sohrabi MR, Moghimian F. N-Acetylcysteine as an adjuvant to clomiphene citrate for successful induction of ovulation in infertile patients with polycystic ovary syndrome. J Obstet Gynaecol Res. 2012;38(9):1182-6.
Natural Medicines Comprehensive Database. N-Acetyl Cysteine monograph. Accessed July 10, 2014. www.naturaldatabase.com