There is no more famous case of laryngitis than that of the Little Mermaid. While her voice was lost due to an unfortunate deal with an evil sea witch, mermaids must be mindful of maintaining their voices lest they lose the ability to lure unsuspecting sailors to their destiny in the sea.
This article gives my top five tips for treating and preventing laryngitis in mermaids, mermen and sirens. Don't let your lost voice be the loss of your allure.
Increase Vitamin C
Vitamin C can help merfolk boost their immune system and overcome the inflammation of laryngitis. Sea vegetables, like dulse or kelp, contain about 20mg of vitamin C per tablespoon. So up your seaweed intake, or consider getting a vitamin C supplement – it is a water soluble supplement so watch that it doesn't dissolve in the sea.
Sage Tea
Sage (Salvia officinalis) is a land plant that is most often associated with Thanksgiving turkey dinners. However, it can be used by humans and mermaids alike to calm a sore throat and heal laryngitis. Sage has astringent, antiseptic and antibacterial properties that make it ideal for laryngitis.
Sage is most commonly used as a tea – brew 1-2 tsp in boiling water and drink warm (2-3 cups per day). You can also add honey if available in your neck of the sea. Don't use sage if you are breastfeeding merbabies, as it can reduce milk supply.
Licorice Reduction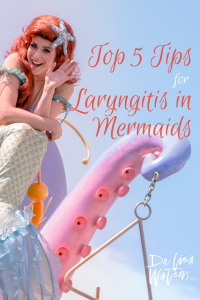 Licorice (Glycyrrhiza glabra) is the root from another land plant and has anti-inflammatory and soothing properties. My favourite way of using licorice is as a reduction. Simple to prepare, and delicious, licorice reduction is safe for meradults and merchildren.
To make the reduction boil 8 tbsp of licorice root in 6 cups of water. Reduce heat and simmer until the mixture reduces to 1 ½ cups. Remove from heat and add 6 tbsp of honey. Cool, bottle and keep in a cool wet sack. Merchildren can have 1 tsp three times per day, and meradults can have 1 tbsp three times daily.
Total Voice Rest
While the temptation for mermaids may be to sing, total voice rest is recommended for any merfolk suffering with laryngitis. Even whispering can prolong the inflammation in the laryngx and slow healing. So give your voice a rest for a few days and trust to your body language to get your message across.
Don't Trust Sea Witches
My final suggestion for preventing laryngitis is to avoid sea witches, and never trust one if you do encounter one. Sea witches are one of the most common causes of laryngitis in mermaids (although a rare cause in humans). Remember – an ounce of prevention is worth a pound of cure – so leave the sea witches to their own devices and reduce your risk of developing laryngitis.
Disclaimer
The advice provided in this article is for informational purposes by the supernatural community. It is meant to augment and not replace consultation with a licensed monster doctor. Consultation with a Naturopathic Doctor, Dr. Frankenstein, or other primary care provider is recommended for any supernatural being suffering from a health problem.