While your medical doctor may not have heard of it, the functional and naturopathic medicine community is raving about berberine for polycystic ovarian syndrome (PCOS). And if you haven't heard about it – you are about to go to school on WHY berberine may be exactly the treatment you have been looking for.
What is Berberine?
Berberine is a compound (technically a quaternary ammonium salt – damn! science!) found in several plants – most notably barberry, Oregon grape and goldenseal.  It has been used as a medicine in Traditional Chinese Medicine for over 5000 years.
Berberine Improves Insulin Responsiveness
One of the key findings in many women with PCOS is a poor response to insulin. When the cells (including those of the ovaries) stop responding to insulin, energy goes down, weight gain goes up and many of the hormone imbalances associated with PCOS show up.
One of the most common prescription treatments for PCOS is metformin, a drug that improves insulin response. But studies have found that berberine is able to do this too – and maybe even a bit better than metformin!
Berberine stimulates cells to take up glucose, so blood sugar and insulin levels drop. This can result in ovulation for women with PCOS. One study also found that the women taking berberine lost more weight than the women on metformin. Win-win!
Berberine Lowers Testosterone
The elevated testosterone associated with PCOS is the one hormone imbalance most women want addressed quickly. Elevated testosterone leads to the acne, head hair loss, chin and upper lip hair growth that women despise. Studies have demonstrated that berberine can lower testosterone levels and speed the resolution of these symptoms.
Berberine Benefits Your Gut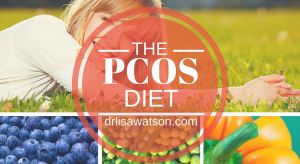 Berberine is not just great for your ovaries, but it's great for your gut too. Berberine has been used for generations to treat symptoms of gas, bloating, constipation and diarrhea. Now we understand that it does this by helping increase the production of short chain fatty acids and supporting the healthy bacteria (probiotics) in our guts. Healthy bacteria help us to eliminate estrogen – minimizing the potential for estrogen dominace – another common hormone imbalance in PCOS.
Berberine Loves Your Liver
Your liver is essential in hormone balance. Berberine has been found in studies to increase the production of sex hormone binding globulin (that's a mouthful…) or SHBG that binds to testosterone and makes it unavailable for use in your body.
Berberine has also been found to lower liver enzymes in non-alcoholic fatty liver disease, a condition that is commonly found in women who are overweight and have PCOS.
Berberine Benefits Fertility
Whether you are trying to get pregnant or just balance your hormones, it is reassuring to know that berberine can improve ovulation and pregnancy rates in women with PCOS. In women with PCOS undergoing IVF procedures, those who took berberine (no matter whether they were normal weight or overweight) had higher pregnancy rates than women using metformin or a placebo.
Berberine Boosts Weight and Fat Loss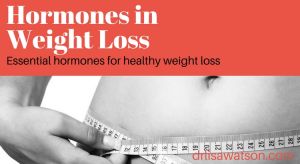 Not every woman with PCOS is overweight (I talk about that more in the PCOS Types article), but if you are even mildly overweight berberine can help you to shed some unwanted fat.
Berberine has been found in multiple studies to support weight loss and to help target fat loss from the midsection of the body. Berberine helps to lower the production of our hunger hormone, leptin – a hormone that stimulates our appetite. Women with PCOS and women who are overweight often have abnormal levels of leptin.
Building on Berberine
Berberine is an excellent option for many women with PCOS. It can be the cornerstone for PCOS treatment and help you to achieve your dreams of hormone harmony.
Discuss with your Naturopathic Doctor if berberine is the best bet for you.  It may be used in combination with other natural treatment options, diet and lifestyle changes to improve your health and hormones, naturally.
Select Resources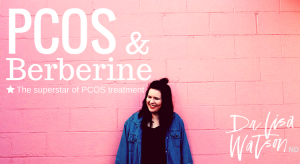 An Y, Sun Z, Zhang Y, Liu B, Guan Y, Lu M. The use of berberine for women with polycystic ovary syndrome undergoing IVF treatment. Clin Endocrinol (Oxf). 2014 Mar;80(3):425-31
Wei W, Zhao H, Wang A, Sui M, Liang K, Deng H, Ma Y, Zhang Y, Zhang H, Guan Y. A clinical study on the short-term effect of berberine in comparison to metformin on the metabolic characteristics of women with polycystic ovary syndrome. Eur J Endocrinol. 2012 Jan;166(1):99-105.
Wu X, Yao J, et al. Berberine improves insulin resistance in granulosa cells in similar way to metformin. Fertility and sterility.2006; supplement S459-S460.
Yang J et al. Berberine improves insulin sensitivity by inhibiting fat store and adjusting adipokines profile in human preadipocytes and metabolic syndrome patients. Evid Based Complement Alternat Med. 2012
Zhao L et al. Berberine improves glucogenesis and lipid metabolism in nonalcoholic fatty liver disease. BMC Endocr Disord. 2017 Feb 28;17(1):13.
Disclaimer
The advice provided in this article is for informational purposes only. It is meant to augment and not replace consultation with a licensed health care provider. Consultation with a Naturopathic Doctor or other primary care provider is recommended for anyone suffering from a health problem.