Polycystic ovarian syndrome is the most common hormone imbalance in women and yet very few people are talking about how significantly this imbalance is impacting women's lives.
PCOS can impact any woman, at any age – from puberty to perimenopause, and in addition to the typical symptoms of irregular or absent periods, acne, facial hair growth and scalp hair loss, there can also be an increased incidence of mental health concerns.
PCOS and Depression
It has been my experience in practice that women with PCOS often have signs of depression – many of them due to the effects the symptoms of PCOS have on their body image. Researchers have found that nearly ¼ of women with PCOS have depression and they too suggest it may be linked to the "emotionally distressing" symptoms associated with PCOS, rather than the underlying hormone imbalance itself.
PCOS and Anxiety
Rates of anxiety are also higher in women with PCOS, with 11.5% of women in one study having both diagnoses (compared to an average 9% in the general female population).
Anxiety may be associated both with the physical symptoms of PCOS, but potentially may also stem from the hormone imbalances, such as low progesterone, that are common in PCOS. Progesterone is an anxiety-lowering hormone and low levels of progesterone occur when there is no ovulation – such as in PCOS.
PCOS and ADHD
Another interesting finding from the 2018 study on PCOS and mental health – women who have PCOS have an increased risk of having children who are diagnosed with ADHD (attention deficit hyperactivity disorder) or an autism spectrum disorder. The researchers suggest that it may be due to higher circulating androgens during development.
Support for PCOS and Mental Health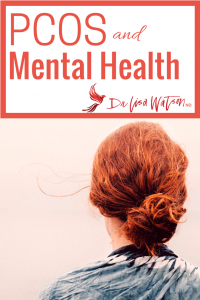 Focusing on whole body health, rather than just the visible symptoms of PCOS is important for all women with PCOS. While most women will want to focus on clearing acne and decreasing body weight, we must look at women as a complex entity of interlacing systems – ladies, we are all unicorns – we need to be treated individually and with attention to our specific wants and needs. Our mental and physical health are one and the same, and we should seek care from health care providers who recognize that.
Your Naturopathic Doctor can help you to put together a plan that focuses on your diet, lifestyle, obstacles to health, hormonal imbalances and mental and spiritual health.  Looking at your life and health as a whole, rather than individual symptoms to be managed, your ND works with you to achieve optimal health – in all areas of your life.
Select References
Thomas R Berni Christopher L Morgan Ellen R Berni D Aled Rees.  Polycystic ovary syndrome is associated with adverse mental health and neurodevelopment outcomes.  The Journal of Clinical Endocrinology & Metabolism, jc.2017-02667
Disclaimer
The advice provided in this article is for informational purposes only. It is meant to augment and not replace consultation with a licensed health care provider. Consultation with a Naturopathic Doctor or other primary care provider is recommended for anyone suffering from a health problem.