Iron is one of the most important minerals for health.  Iron is used to form hemoglobin which allows our red blood cells to carry oxygen to each and every cell in our body.  Iron deficiency is the most common nutrient deficiency worldwide with up to two billion people affected, mostly women and children, and affects omnivores and vegetarians alike.
Symptoms of Iron Deficiency
Iron deficiency generally develops slowly and symptoms often do not appear until anemia is severe, even though our cells are already suffering the consequences of inadequate iron.
Symptoms of iron deficiency are similar in all age groups and include:
Fatigue
Dizziness
Shortness of breath
Irritability
Pale skin
Sore tongue
Dark coloured stools
Frequent infections
Sensitivity to temperatures (cold or heat)
Pica (the desire to eat non-food substances – most commonly ice or dirt)
Vegetarians have no higher incidence of iron deficient anemia than the omnivore population, however there are some additional precautions vegetarians must take to ensure an adequate dietary intake of iron.
Absorption of Iron from the Diet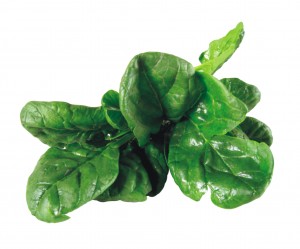 Dietary sources of iron are either heme-based (from animal sources) or non-heme (vegetarian.)  Some foods (such as cereals and infant formulas) are also iron-enriched or iron-fortified – non-heme iron is used in these foods.
Although a vegetarian diet is likely to contain as much (or more) iron than an omnivorous diet, the non-heme iron in a vegetarian diet is substantially less available for absorption because of differences in the chemical form of iron and accompanying constituents that inhibit iron absorption (such as calcium, tannins and phytates).
Vegetarians need to consume approximately 80% more iron than indicated by the national Recommended Daily Intake (RDI) due to the decreased bioavailability.  Absorption of non-heme is estimated to be 10%, although more will be absorbed in cases of severe anemia.  By comparison the absorption of non-heme iron is approximately 18%.
Iron absorption can be enhanced by combining iron rich foods with a source of vitamin C, using iron cookware (especially for cooking acidic foods that solubize iron from the pan), sprouting grains and avoiding coffee, tea and red wine with meals.
Vegetarian Food Sources of Iron
Food
Amount
Iron (mg)
Fruits and Vegetables
Spinach (cooked)
½ cup
3.4
Tomato (pureed)
½ cup
2.4
Asparagus
6 spears
2.1
Hearts of palm (canned)
½ cup
2.0
Swiss chard (cooked)
½ cup
2.0
Potato (cooked, with skin)
1 medium
1.9
Snow peas
½ cup
1.7
Turnip or beet greens (cooked)
½ cup
1.7
Prune juice
½ cup
1.6
Apricots (dried)
¼ cup
1.6
Beets (canned)
½ cup
1.6
Raisins
½ cup
1.6
Watermelon
1/8 medium
1.4
Kale (cooked)
½ cup
1.3
Green peas (cooked)
½ cup
1.3
Tomato sauce
½ cup
1.3
Bok choy (cooked)
½ cup
0.9
Broccoli (cooked)
½ cup
0.6
Brussels sprouts (cooked)
½ cup
0.5
Beans, lentils, legumes
Edamame or soybeans (cooked)
¾ cup
6.5
Tofu (cooked)
¾ cup
2.4-8.0
Tempeh (cooked)
¾ cup
3.2
Lentils (cooked)
¾ cup
4.9
White beans (cooked)
¾ cup
4.9
Adzuki beans (cooked)
¾ cup
3.4
Navy beans (cooked)
¾ cup
3.2
Kidney beans (cooked)
¾ cup
2.9
Black beans (cooked)
¾ cup
2.7
Pinto beans (cooked)
¾ cup
2.7
Baked beans (cooked, canned)
¾ cup
2.2
Lima beans
½ cup
2.2
Chickpeas (cooked)
¾ cup
3.5
Black eyed peas (cooked)
¾ cup
Split peas (cooked)
¾ cup
1.8
Soy yogurt
¾ cup
2.1
Hummus
¼ cup
1.5

Grains

Oatmeal (cooked)
¾ cup
6.0
Cream of wheat (cooked)
¾ cup
5.7
Cereal (dry)
30g
4.0
Soda cracker
6 crackers
2.3
Oat bran cereal (cooked)
¾ cup
2.0
Quinoa (cooked)
½ cup
1.4
Pasta, egg noodle (cooked)
½ cup
1.3
Bulgur (cooked)
 ½ cup
0.8
Millet (cooked)
½ cup
0.6
Nuts and Seeds
Pumpkin seeds (roasted)
¼ cup
4.7
Peanuts
¼ cup
1.7
Macadamia nuts
¼ cup
1.2
Pistachio nuts
¼ cup
1.2
Cashews
¼ cup
0.8
Almonds
¼ cup
0.8
Hazelnuts
¼ cup
0.9
Pecans
¼ cup
0.6
Tahini
2 tbsp
2.7
Sesame seeds (roasted)
1 tbsp
1.4
Almond butter
2 tbsp
1.1
Peanut butter
2 tbsp
0.6
Other Delicious Foods
Blackstrap molasses
1 tbsp
3.6
Yeast extract spread (vegemite or marmite)
2 tbsp
1.5
Sources: USDA Nutrient Database for Standard Reference, Release 24, 2011
Recommended Daily Intake and Supplementation
The RDI for iron is 80% higher for vegetarians and is dependent on your age.  Children, adolescents and pregnant women have increased needs due to the rapid growth seen during these ages.  The values below are for vegetarian people only and reflect the increased need for iron in this population
Daily recommended intake of dietary iron for vegetarians
Infants (0-2 years): 19mg per day
Children (3-11 years): 18mg per day
Adolescent girls (12-18): 27mg
Adolescent boys (12-18): 19mg
Adult women (19-50): 32mg
Adult men (19-50): 15mg
Pregnant women: 48mg
Seniors (>50): 14mg 
Iron supplements should only be taken if blood tests have shown evidence of an iron deficiency or decrease in iron storage levels. Research suggests that a daily iron supplement is best for treating low iron, however frequency may be decreased to once or twice per week for prevention of deficiency in people with a history of low iron.
Iron supplements should be taken away from other minerals (especially calcium) since these may decrease the absorption of iron.  A source of vitamin C (500mg capsule) is also recommended to enhance absorption each time an iron supplement is taken.
Ferrous fumarate and ferrous sulfate contain the highest amount of elemental iron per mg with ferrous gluconate containing the least.  Ferrous gluconate, ferrous fumarate and ferrous citrate are well tolerated with fewer digestive side effects reported.
Constipation, darkening of the stool and digestive upset are the main side effects seen with iron supplements.  Supplements should be continued for three months beyond the resolution of iron deficiency anemia to replenish body stores of iron.
If you suspect you may have an iron deficiency, seek a blood test from your Medical Doctor or Naturopathic Doctor.
Disclaimer
The advice provided in this article is for informational purposes only.  It is meant to augment and not replace consultation with a licensed health care provider.  Consultation with a Naturopathic Doctor or other primary care provider is recommended for anyone suffering from a health problem.
Selected References
Goddard AF, James MW, McIntyre AS, Scott BB. Guidelines for the management of iron deficiency anaemia. British Society of Gastroenterology. 2005
M Amit; Canadian Paediatric Society, Community Paediatrics Committee. Vegetarian diets in children and adolescents. Paediatr Child Health 2010;15(5):303-314.
Hunt JR.  Bioavailability of iron, zinc, and other trace minerals from vegetarian diets. Am J Clin Nutr 2003;78(suppl):633S–9S
Stoltzfus RJ, Dreyfuss ML. Guidelines for the Use of Iron Supplements to Prevent and Treat Iron Deficiency Anemia. International Nutritional Anemia Consultative Group (INACG)