The tea shop can be a daunting place!  Sencha, oolong, pu-erh, ceylon, Darjeeling, matcha – exotic words that can intimidate or inspire new and experienced tea drinkers alike.
One type of tea stands out from the crowd – a jade-green powder that looks out of place amongst the leafy green, black and white teas.  This is matcha –  Japanese for "powdered tea".
What is matcha?
Matcha is a special kind of green tea.  It is the tea prepared in traditional Japanese tea ceremonies (Chanoyu) and has been used by Zen monks during meditation for over 800 years.  Matcha is also unique because it is the only green tea where the leaves are powdered and drank – so that you are actually consuming the whole leaf.
Why drink matcha?  The many health benefits of matcha.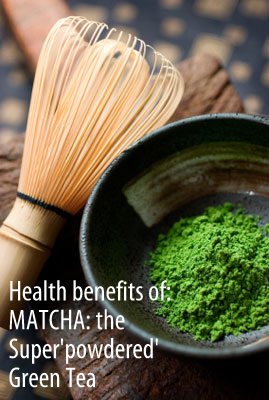 Because matcha is a powdered green tea you get all the benefits of green tea, but to a higher degree.  Drinking one cup of matcha tea gives you the equivalent of ten cups of green tea in terms of antioxidant and health-promoting benefits.
Matcha is also grown in a special way.  The earliest spring leaves are covered for two to three weeks ('shade grown') which causes health-promoting nutrients to concentrate in the leaf of the tea plant.  Shade growing also increases the amount of the amino acid L-theanine in the tea leaf.
The L-theanine in matcha relaxes the brain, muscles and blood vessels.  It can help lower blood pressure, enhances mood and promotes a sense of wellness by enhancing alpha waves in the brain (associated with a feeling of happiness, relaxation, and alertness) and increasing dopamine (and possibly serotonin) production – two of the brain's 'feel good' chemicals.
The combination of L-theanine and caffeine (matcha does contain caffeine, but it has less caffeine than other green and black teas) gives matcha the unique ability to result in a "calm alertness" or what has been termed "zest and zen" by matcha aficionados.  The caffeine gives an sense of alertness while the L-theanine results in relaxation and a sense of well-being.
Matcha is also an antioxidant powerhouse.  The ORAC (oxygen radical absorbance capacity – a measure of the antioxidant capacity of a food) rating of matcha is 1348 units/g, compared to 105 units/g for pomegranates and 91 units/g for blueberries. A single cup of matcha contains 70 times the antioxidants of a cup of orange juice and nine times the beta carotene of two cups of spinach.  The antioxidants in matcha – catechin polyphenols – offer protection against many kinds of cancer, help prevent heart disease, reduce cholesterol and can slow the aging process.  The most important and abundant polyphenol in matcha is EGCG (epigallocatechin gallate) – the same polyphenol found in all green teas.  Sixty percent of the catechin content in matcha is EGCG.
Matcha also contains trace minerals and vitamins (A, B-complex, C, E, and K), chlorophyll, and is a source of dietary fiber (remember – you're drinking the whole leaf in a powdered form) and has very few calories
Matcha has many positive impacts on diseases:
it may lower your risk of cancer – the antioxidants in matcha (and other green teas) protect against breast, skin, lung, stomach, prostate, ovarian, and colon cancers
it prevents heart disease – the flavonoids in tea help prevent the arterial blockage that leads to heart attack and strokes
it supports joint health – green tea reduces inflammation and prevents cartilage breakdown – both of which can contribute to improved joint mobility
How to make matcha
Making a cup of matcha is simple and can be a wonderful ritual in the morning or at any time of the day.
Use a tea bowl (or wide mouthed mug).  Place the bamboo tea whisk (a chawan – available wherever you buy matcha tea) into the tea bowl and pour some warm water in to soften the whisk and warm the bowl.  Pour out the water and dry the bowl.
Using a bamboo scoop (chashaku) place three scoops of matcha into the bowl (equivalent to approximately ½ to 1 tsp of matcha)
Pour one quarter of a cup of hot, but not boiling (85 to 90°C) water over the matcha
Whisk the mixture with the bamboo whisk to completely disperse the matcha.  This should take between 20 to 30 seconds (less time is needed if the matcha is sifted prior to use)
Drink the matcha
Tips:
sift matcha prior to use to ensure a nice frothy cup of tea
store matcha in the freezer to maintain freshness
matcha can be made thick (Koicha) or thin (Usucha) by altering the amounts of matcha and water
a matcha latte can be made by adding prepared matcha tea to 3/4 cup of steamed soy milk (or other milks)
matcha can be used in baking – cookies, cupcakes, ice creams, and more can all be made with matcha
I hope you are all inspired to give matcha tea a try.  It is truly a "superpowdered" green tea.  Full of health-promoting benefits and gives you an immediate sense of calm alertness.  It is the favourite part of my morning ritual.  I encourage you to incorporate it into your morning, or any time you want a healthy boost to your day.
Nutritional Profile of Matcha Tea
| | |
| --- | --- |
| Nutrient | Per 1g Matcha |
| Total Catechins | 105mg |
| EGCg | 61 mg |
| Total Amino Acids | 34 mg |
| L-theanine | 14.26 mg |
| Caffeine | 35mg |
| Fiber | 318mg |
| Carbs | 447mg |
| Vitamin C | 1.75mg |
| Vitamin A | 291 units |
| Potassium | 26.6mg |
| Calories | 3 |
Disclaimer
The advice provided in this article is for informational purposes only.  It is meant to augment and not replace consultation with a licensed health care provider.  Consultation with a Naturopathic Doctor or other primary care provider is recommended for anyone suffering from a health problem.
Sources and Further Reading
ORAC Analysis on Ceremonial Matcha Green Tea ME17916 Lot#D1805: Brunswick Laboratories
G Cao, SL Booth, JA Sadowski, and RL Prior.  Increases in human plasma antioxidant capacity after consumption of controlled diets high in fruit and vegetables .  Am J Clin Nutr 1998 68: 1081-1087.
Matcha Source, Matcha Tea Health Benefits