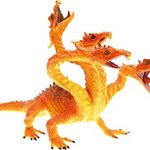 Premenstrual syndrome (PMS) is a many-headed beast – with over 150 different symptoms attributed to PMS, many women find the week before their period to be a challenging time.
But what about those women who are completely destroyed by their PMS? Who suffer with severe mood changes, insomnia and fatigue? For those women, they may be suffering from PMDD – premenstrual dysphoric disorder.
A Diagnosis of PMDD
PMDD is classified as a depressive disorder. It is not the same as clinical depression as it occurs with a very specific timing – during the second half of the menstrual cycle, after ovulation, and it resolves within a few days of starting your period.
PMDD causes a lot of distress and significantly impacts a woman's ability to function and to maintain her quality of life. Between 2-6% of women experience PMDD, but many of them don't seek treatment and instead suffer each month with severe symptoms.
PMDD is different from PMS in the severity of symptoms and the consequences of the mood changes.   The diagnosis is made by using symptom tracking reports and needs to meet the following criteria: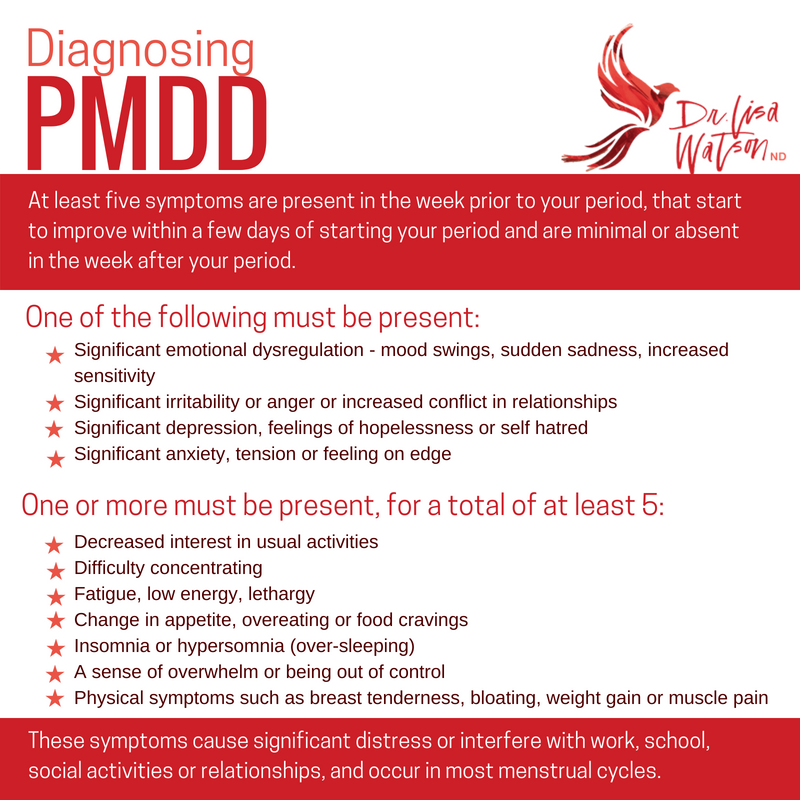 Treatment of PMDD
The conventional approach to treating PMDD results in most women being given one of two options: the birth control pill, or an antidepressant. While these treatments may be effective for some women, many more women are seeking a more natural, empowered approach to managing their PMDD.
Natural Approaches to PMDD
In my article on Ten Natural Treatments for PMS I discuss the lifestyle and diet for managing PMS. I suggest all women with PMDD also follow those recommendations. But for PMDD I tend to take a more aggressive approach – the symptoms are often severe enough to warrant a very targeted and bold plan.
Vitamin B6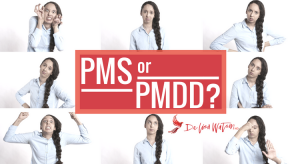 Used in both PMS and PMDD, vitamin B6 is necessary for the production of cortisol, progesterone and serotonin – all hormones involved in PMS and PMDD. Taking high (orthomolecular) doses of vitamin B6 can be helpful at reducing symptoms of PMS and PMDD. Vitamin B6 is usually taken all month long, but higher doses can be used in the second half of the cycle if needed.
Calcium
Calcium has been found in studies to reduce a wide variety of symptoms associated with PMS. While I don't find it to be useful on its own, in a robust protocol calcium can play a role in reducing both the mood and physical symptoms of PMS and PMDD.
L-tryptophan and 5-HTP
Two supplements that can increase the production of serotonin in the body, L-tryptophan and 5-HTP, show a lot of promise in the treatment of PMDD. Supporting the serotonin system in women has been one of the most effective means of treating PMDD. L-tryptophan and 5-HTP are the direct precursors of serotonin and can significantly reduce mood symptoms of PMDD. These supplements are not taken together, and should not be combined with other antidepressants. Use under the guidance of a knowledgeable and experienced Naturopathic Doctor.
St. John's Wort
One of the most commonly used botanical medicines, St. John's Wort is an excellent treatment for women with PMDD. Acting on the serotonin system in the body, St. John's Wort can reduce depressive symptoms of PMDD and improve mood. It can be taken all month long, or just during the second half of the menstrual cycle.
Chaste Berry
Chaste berry (chaste tree, Vitex agnus-castus), which I also discussed in the PMS article, has been found to be effective for PMDD. Chaste berry can reduce anger, irritability, anxiety, mood swings, and physical symptoms associated with PMS and PMDD. My experience is that it can be moderately effective for PMDD, but often additional treatments are needed to help women feel considerably better.
IV Micronutrient Therapy
One treatment that I have found to drastically improve PMS and PMDD symptoms in women is IV micronutrient therapy (IVMT). IVMT allows us to administer doses of vitamins (like B6, calcium and magnesium) at higher doses than you would be able to take orally. IV therapy also provides an abundance of nutrients necessary for detoxification of hormones – and reducing the hormone burden in the body can greatly improve symptoms of PMDD. Not every woman is a candidate for IVMT, but talk to your Naturopath to find out if you are.
Bio-Identical Progesterone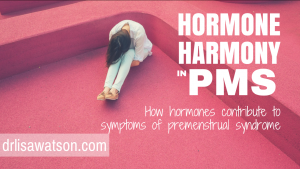 While we don't know exactly what causes PMS and PMDD, one suspect in this mystery is an imbalance of estrogen and progesterone – often called estrogen dominance. When progesterone levels are unstable, or low, and estrogen levels are high, PMS and PMDD depression and mood swings can result. For some women, especially those in their 40s, bio-identical progesterone can be a lifesaver. Your ND will give you a questionnaire to identify a possible progesterone imbalance, and may also recommend hormone testing.
Empowering Your Journey
If you are interested in learning more about how to manage your PMDD, I suggest working with a qualified Naturopathic Doctor who can guide you on this journey.  PMDD is too severe, and too complex to try and piece together a treatment on your own.  Working with an ND who can guide and support you on this journey may be the best decision you make for your health and your sanity.
Select Resources
Comprehensive Gynecology, Seventh Edition. Ed. Lobo R, Gershenson D, Lentz G. 2017; 37, 815-828.
Ferri's Clinical Advisor. Premenstrual Dysphoric Disorder. Ed. Ferri FF. 2019
Disclaimer
The advice provided in this article is for informational purposes only. It is meant to augment and not replace consultation with a licensed health care provider. Consultation with a Naturopathic Doctor or other primary care provider is recommended for anyone suffering from a health problem.
SaveSave