As every pregnant woman approaches the last weeks of pregnancy they can't help but start thinking of ways to bring on labour and get the chance to meet their baby sooner.
A pregnancy is considered full term at 37 weeks and the techniques discussed in this article should not be started until after this point.  Some women choose to wait until 40 weeks, or their due date to begin trying to naturally induce labour.
Below are suggestions for natural labour induction methods that can be attempted at home and also those that should only be administered by a qualified Naturopathic Doctor.
Techniques for Natural Labour Induction at Home
1.     Sexual intercourse
One of the simplest methods of inducing labour (if you're up for it!)  The prostaglandins in semen can help with the dilating and effacing (thinning) of the cervix.  If you are able to achieve orgasm this can further open the cervix.  Additionally, sex can trigger the release of oxytocin, the 'contraction' hormone.  Sex, even this late in pregnancy, is perfectly safe for both the mother and baby.
2.     Nipple stimulation
Stimulating the nipples (manually or with a breast pump) can lead to increased frequency and strength of contractions.  Stimulating the nipples causes the release of oxytocin, the same hormone that is responsible for uterine contraction.  This technique is best done if you are already experiencing infrequent contractions, labour has stalled or you are several days past your due date.  There are several methods that are suggested:
i.   firm pressure of nipple with fingers for 2 minutes, rest for 3 minutes.  Repeat for 20 minutes.
ii.  15 minutes of firm nipple (including the areola) stimulation (alternating breasts midway through) each hour for several hours in a row.
3.     Exercise
Sometimes the best technique for inducing labour is encouraging the baby to assume the best position for labour and delivery.  Exercise, such as walking, swimming, belly dancing, or some yoga movements can help descend a baby into the pelvis and apply the necessary pressure on the cervix for dilation to occur.
4.     Pineapple
Fresh pineapple is a rich source of bromelain, an enzyme that some people think can encourage ripening of the cervix and bring on labour.  Eat fresh pineapple daily, juicing and canning pineapple destroys the bromelain.  Caution: large amounts of pineapple can contribute to heart burn or diarrhea in some people.
5.     Castor Oil
One of the oldest methods of bringing on labour, it is one that I don't personally recommend unless you are past your due date.  Castor oil works by irritating the digestive tract and having purgative (vomiting) and laxative (diarrhea) effects.  This over-stimulation of the digestive tract also results in stimulation of the uterus and can be effective in bringing on labour.  However, many women would prefer not to be experiencing diarrhea or vomiting in their early labour.  If you choose to use castor oil start with smaller amounts (1-2 tablespoons) and mix with a nut butter (such as almond butter) to provide  some fat and protein to lessen the negative effects of the castor oil.
6.     Evening Primrose Oil
Evening primrose oil is a rich source of prostaglandins and can support the thinning and dilation of the cervix.  Gel caps are easily available in health food stores.  Insert 3 capsules as close to the cervix as possible each night at bedtime (wear a pad to bed in case there is a slight discharge.)
Techniques for Labour Induction Provided by a Naturopathic Doctor
7.     Red raspberry leaf tea
A botanical that is well known for it's uterine tonifying properties.  It promotes stronger contractions of the uterus and is often used throughout the entire third trimester to 'work out' the uterus and get it ready for labour and delivery.  It is unlikely to induce labour on its own, but when used in combination with other methods it can speed up the progression of labour and promote strong, healthy contractions.
8.     Botanicals – blue cohosh and black cohosh
Blue cohosh (Caulophyllum thalictroides) and black cohosh (Cimicifuga racemosa) are uterine tonifying herbs.  They are known to cause contraction of the uterus and are thus contraindicated for use in early pregnancy.   They may be used in certain circumstances to stimulate labour and promote strong and regular contractions.  These herbs should never be taken without proper medical supervision from a qualified Naturopathic Doctor, midwife or obstetrician.
9.     Homeopathic Remedies
Homeopathic remedies are small doses of more potent substances and, as a result, are very safe for use during pregnancy, labour and delivery.  They are considered much safer than botanical remedies – no published studies exist showing any harm to the mother or fetus after use of homeopathics in pregnancy and labour.
The most common homeopathic remedies used to induce labour are pulsatilla, caulophyllum and cimicifuga.  Homeopathic remedies are taken by mouth at regular intervals to induce labour.  Dosages vary – contact your Naturopathic Doctor for an individualized plan.
10. Acupuncture
Acupuncture has been used for centuries to treat conditions associated with pregnancy (such as heart burn, nausea, and carpal tunnel syndrome) as well as for inducing labour.  Acupuncture to stimulate labour can be begun after 37 weeks gestation and is administered from once per week to once per day, depending on the desired outcome.  When performed after the due date, acupuncture has been shown in studies to have a success rate of up to 88% in starting labour.
Specific points are used to stimulate and strengthen uterine contractions, promote proper fetus positioning and encourage the downward movement of Qi (energy) which can bring on labour.
All published studies have shown acupuncture to be safe for both mother and fetus when applied by a qualified practitioner.  Be sure to find someone who is experienced in perinatal acupuncture protocols and techniques.
Your Naturopathic Doctor can also teach you proper acupressure techniques for you, or your birth partner, to administer to induce labour or manage pain during labour and delivery.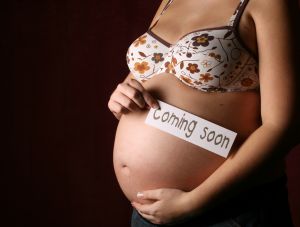 Remember, although most of these methods are safe and can be effective in encouraging labour in full-term pregnancies, it is important to make sure your primary health care provider (e.g. midwife or obstetrician) has given you the go-ahead for trying to induce labour.  There are some instances where waiting is the best approach for both mother and baby.
Also be sure any practitioners (Naturopathic Doctors, homeopaths, herbalists, acupuncturists, etc.) are fully qualified and knowledgable in pregnancy and labour.  Not all practitioners have the same level of experience – ask questions and only work with practitioners you have confidence in.
Disclaimer
The advice provided in this article is for informational purposes only.  It is meant to augment and not replace consultation with a licensed health care provider.  Consultation with a Naturopathic Doctor or other primary care provider is recommended for anyone suffering from a health problem.