PMS (premenstrual syndrome) sucks.  That's not medical jargon, that's just the way it is.  Once a month, up to three-quarters of women experience physical or emotional discomfort or pain which can last up to 14 days (seriously.  14 days.)  Over 150 symptoms of PMS have been identified but the most common symptoms are:
Decreased energy
Irritability, nervousness, anxiety and anger
Food cravings
Depression
Headache
Altered sex drive
Breast pain
Muscle aches and low back pain
Bloating
Diarrhea and/ or constipation
Swelling of the hands and feet
Trouble concentrating
Difficulty sleeping
What causes PMS?
Honestly, we don't exactly know.  Researchers, clinicians, and people all over the internet debate this constantly.  We do know that it's most likely a combination of imbalances in our hormones, neurotransmitters, lifestyle factors and our environment that leads to symptoms of PMS.
Balancing these diverse systems gives most women relief from their PMS symptoms. But it can take some time to determine what will work for you!  Don't try to do this alone – an experienced naturopath or functional medicine doctor can guide you and give you the best chance for bidding farewell to your PMS.
Below you will find my TOP TEN natural treatments for PMS.  Start here.  Empower yourself with knowledge.  Then find the support you need.
10 Tips to Treat PMS Naturally
1. Exercise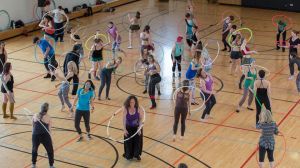 Come on.  We know exercise is important, but did you know it can decrease your PMS symptoms?  Studies have shown again and again that women who engage in regular exercise have fewer PMS symptoms than women who do not.  And the exercise doesn't need to be intense – it just needs to happen regularly (at least 3 times per week throughout the month).
Exercise can reducing estrogen levels, improve blood sugar levels and raise your feel-good endorphins!  And really, any exercise will do.  So run, dance, swim, cycle, hula hoop, yoga or pilates – it doesn't matter.  Just do it!
2.    Cut the sugar
Women who experience PMS have been reported to eat whopping 275% more refined sugar than women who do not get PMS symptoms.  DAMN.
Refined sugars zap our magnesium levels, increase salt and water retention and create imbalances in our insulin levels.  All of these concerns have been linked to PMS symptoms.
Eliminating refined sugar and limiting simple carbohydrates (grains, pasta, baked goods) in favour of high fiber complex carbohydrates (fruits and vegetables, whole grains) lowers levels of estrogen, improves magnesium levels and can significantly improve symptoms of PMS.   So cut out the cookies, cakes, bagels and breads in favour of oatmeal, popcorn, quinoa, brown rice and other fiber rich foods.
 3.    Eliminate caffeine
I hate to be the bearer of bad news, but caffeine consumption is associated with more and worse PMS symptoms.  Caffeine is linked especially to breast tenderness, anxiety, irritability and difficulty sleeping during PMS.  The impact is even worse when combined with sugar (pay attention all you Frappuccino drinkers!).  Eliminating caffeine, or limiting it during the premenstrual phase can improve PMS symptoms for a lot of women.
4.    Take a probiotic
Probiotics are not just for digestive health!  Those little buggers living in our intestines are working hard for our health.  Healthy bacteria can decrease symptoms of PMS by increasing beta-glucuronidase enzyme activity and promoting estrogen excretion.
The best way to establish healthy bacteria levels in your gut is to take a probiotic supplement.  Try for one with both Lactobacillus acidophilus and Bifidobacterium bifidum.  Taken with food, probiotics are extremely safe and have no negative side effects (you can experience bloating if you take too much – 1 to 10 billion is usually a safe amount).
 5.    Consider Cal-Mag
Estrogen and calcium are BFFs in our bodies.  Estrogen is involved in the absorption, metabolism and utilization of calcium in our bodies (this is why we are more prone to osteoporosis as we age – we're learning so much today!)  And studies have found that both mood and physical symptoms of PMS are improved with daily calcium supplementation
Magnesium deficiency is a serious concern and most women with PMS are deficient in magnesium!  I'm going to say that again – MOST women with PMS are deficient in magnesium.   Magnesium deficiency causes fatigue, irritability, mental confusion, menstrual cramps, insomnia, muscle aches or pains and heart beat irregularities.
Dietary sources of calcium include dark green leafy vegetables, dairy (cheese, yogurt, milk), tofu, and almonds.  Dietary sources of magnesium are similar and include green leafy vegetables, tofu, legumes, nuts, seeds and whole grains.  Take to your ND about a Cal-Mag supplement, and take it in the evening away from other medications and supplements.
6.    Bring the B vitamins
It is hard to keep track of the hundreds of different things B vitamins do!  One of the most important is the detoxification of hormones through our liver.  If you don't have enough B vitamins, your body is going to be dealing with those hormones a lot longer than you want to be.
Vitamin B6 is also a superstar when it comes to treating PMS.  Necessary for the production of two neurotransmitters – serotonin and dopamine (read all about them in my article on hormones for happiness!), vitamin B6 can seriously ease symptoms of PMS such as low energy, irritability and mood swings.
As if that wasn't enough, B6 is also involved in transfer of magnesium into cells – without B6 magnesium wouldn't be able to enter cells.  This is another reason why B vitamins, and especially B6 are so important in the relief of PMS symptoms.
7.    Dong Quai
Dong Quai (Angelica sinensis) is a traditional Chinese herb with thousands of years of use for imbalances in women's hormones.  It has been used for menopause, painful menstruation, no menstruation and as a uterine tonic.  Dong quai has phytoestrogenic properties and I recommend it for women who experience PMS symptoms in addition to painful menstruation.
Dong quai is usually used from ovulation (day 14) until menstruation begins.  If you are also experiencing painful periods, continue it until your period stops.
 8.    Chaste tree
The SINGLE most important herb in the treatment of PMS, chaste tree (Vitex agnus castus) has been a life-changer for many women in my practice.
The effects of chaste tree appear to be due to the impact it has on the hypothalamus and pituitary – the starting point for hormone production in the body.  As a result, chaste tree is able to normalize the production of many hormones, for instance, reducing prolactin levels and normalizing the estrogen to progesterone ratio.
Chaste tree is best taken daily throughout the menstrual cycle.  Studies have found it to be useful for almost all symptoms associated with PMS including irritability, mood swings, anger, anxiety, headache, and breast tenderness.
9.    Licorice
Licorice (Glycyrrhiza glabra) is an amazing herb – one of the most powerful we use.  It has been used in both Western and Eastern herbal medicine for thousands of years for a wide variety of ailments.  It also has impressive modern scientific research to back up its historical uses.
 Licorice is useful in the treatment of premenstrual syndrome because it lowers estrogen levels while simultaneously raising progesterone levels.  Licorice also blocks the hormone aldosterone, decreasing water retention.
Licorice is usually taken from ovulation (day 14) until your period starts.  It should not be used if you have a history of kidney disease or high blood pressure.  You should be under the care of a Naturopathic Doctor while taking licorice.
10. See a Naturopathic Doctor
Obviously I think this is the best thing you can do to help manage your PMS symptoms.  Naturopathic Doctors are experts in correcting the underlying imbalances that lead to PMS symptoms.  Your unique set of symptoms will give an experienced ND a lot of information that can be used to individualize a treatment plan just for you.  NDs also can order comprehensive hormone panels that will identify imbalances in cortisol, estrogen, progesterone or testosterone that may be contributing to your symptoms.  You can find a licensed Naturopathic Doctor in your area by visiting the national association websites – CAND in Canada and AANP in the United States.  And of course, you can contact me if you'd like us to work together.
Disclaimer
The advice provided in this article is for informational purposes only.  It is meant to augment and not replace consultation with a licensed health care provider.  Consultation with a Naturopathic Doctor or other primary care provider is recommended for anyone suffering from a health problem.