B12 deficiency is one of the MOST common nutrient deficiencies – and one that is not taken as seriously as it should be.  Vitamin B12 is essential for the synthesis of DNA – which is only important in cells that have DNA (i.e. ALL OF THEM).  If you don't have B12, your cells can't divide and grow appropriately and you feel terrible.
B12 is also essential for the healthy of the nervous system, being essential for the formation of myelin – the protective coating around our nerve cells.
B12 is also necessary for carbohydrate metabolism – using sugar for food in both the nervous system and to create abundant energy in our bodies.
If you are concerned your B12 levels may be low, take the quiz below.  If you answer YES to more than SIX questions, get your tired ass to your Naturopath for a blood test.  And if you know your B12 levels are low, do something about it!  It may be as simple as a daily supplement, or it may require B12 injections.  Talk to your ND to determine the best course of action for you.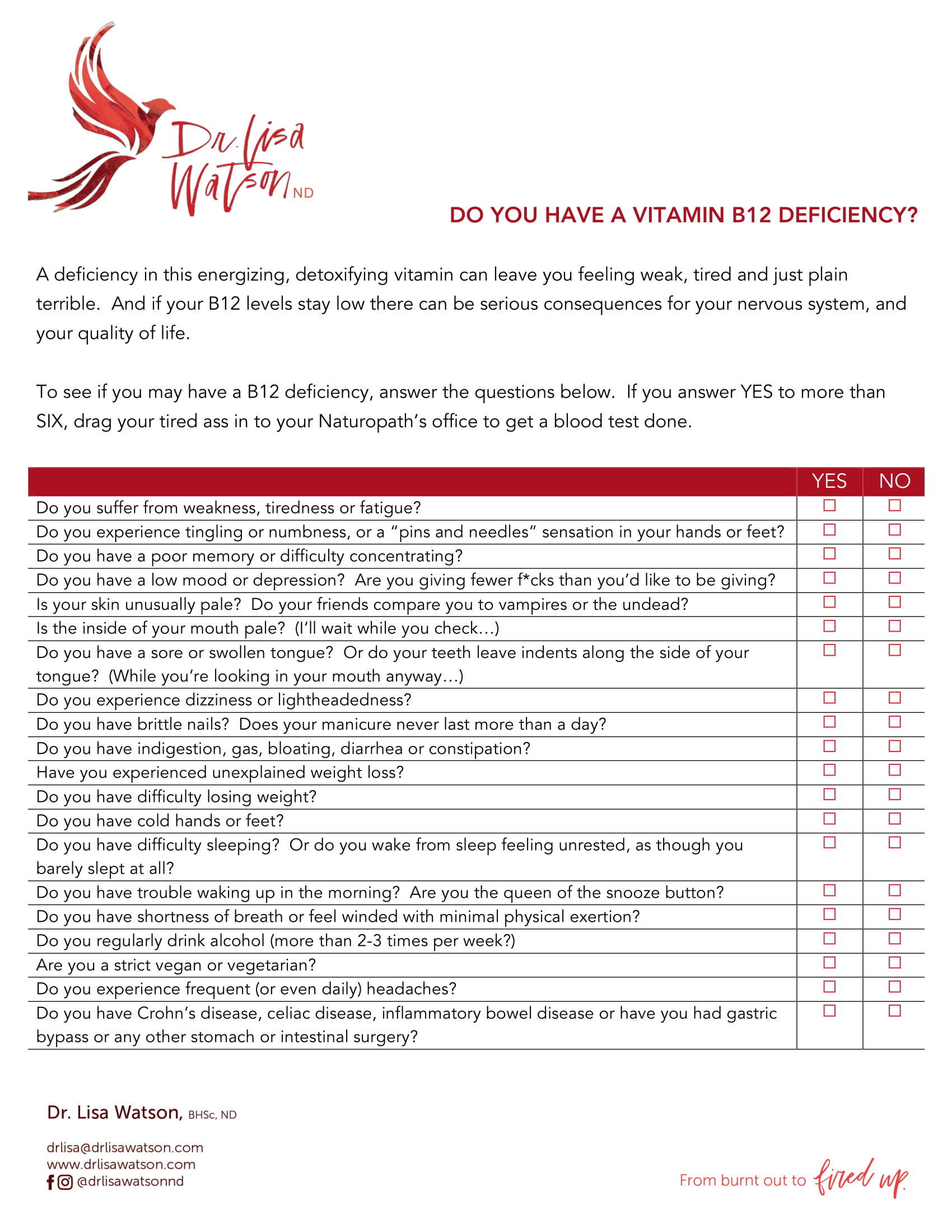 Disclaimer
The advice provided in this article is for informational purposes only.  It is meant to augment and not replace consultation with a licensed health care provider.  Consultation with a Naturopathic Doctor or other primary care provider is recommended for anyone suffering from a health problem.
References:
British Columbia Medical Association. B12 Deficiency – Investigation and Management of Vitamin B12 and Folate Deficiency. Victoria, Canada: Guidelines and Protocols Advisory Committee; 2007.
First Consult: Megaloblastic Anemia  www.mdconsult.com
Rakel: Textbook of Family Medicine, 7th Ed.  2007.  Common Laboratory Testing.