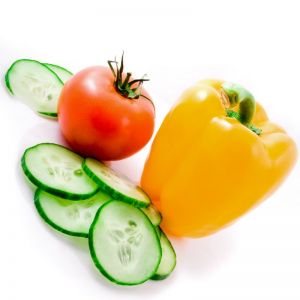 Organic foods – once available only in farmer's markets, health foods stores and co-operatives are now readily available in most large grocery store chains.  If you haven't yet made the change to eating organics, it is time you did.
Changing to eating organics doesn't have to be challenging.  Understanding the value in eating an organic diet, and knowing which foods to always buy organic is a good place to start.  So read on to learn more about Organics 101.
4 Benefits of Eating Organic
1. Higher nutritional value
Conventional farming practices have resulted in declining levels of minerals in fruits and vegetables since the 1940s.  Combined with the common practices of early (pre-ripened) harvesting, longer storage, and increased processing of food crops, and it's not surprising that we are getting fewer nutrients from our food than we were 70 years ago.
Organic fruits and vegetables contain higher levels of minerals, vitamin C, and antioxidants.  Higher levels of lycopene have been found in organic tomatoes, polyphenols in organic potatoes, flavonols in organic apples, and resveratrol in organic red wine.  Scientific reviews have estimated that organic produce tends to contain 10-50% higher phytonutrients than conventionally grown produce.
2.  Lower pesticide residues
One in three conventionally produced food products contains a variety of pesticide residues.  Consuming pesticide residues in food has been linked by Israeli researchers to headache, tremor, fatigue, depression, anxiety, poor memory, skin rashes, convulsions, nausea, indigestion and diarrhea.
3. Better for our children
Children's immature and developing nervous system, immune system, organs, and detoxification processes, plus their larger intake of food per kilo of body weight, combine to make them more susceptible to pesticides and toxins than adults.
A study published in Environmental Health Perspectives found that children eating primarily organic diets had significantly lower levels of organophosphorous pesticides in their system than children eating conventional diets.  Other studies indicate that chronic exposure to organophosphorous pesticides – even at low levels – may affect neurological functioning, neurodevelopment, and growth in children.
"Dose estimates suggest that consumption of organic fruits, vegetables, and juice can reduce children's exposure levels from above to below the U.S. Environmental Protection Agency's current guidelines, thereby shifting exposures from a range of uncertain risk to a range of negligible risk" – Cynthia L. Curl, Richard A. Fenske, and Kai Elgethun.
4. Better for our environment
Pesticide contamination of groundwater, loss of topsoil and the high energy costs of conventional farming are all minimized in organic farming practices.
Environmental Working Group's "Dirty Dozen and Clean Fifteen"
Making the transition to eating organic can be simplified by following the guidelines provided by the Environmental Working Group's 2018 Shopper's Guide to Pesticides.  Available as a downloadable and printable pocket guide, their listing of foods to always consume organically (the "Dirty Dozen") and those that are conventionally grown but have low pesticide residue (the "Clean Fifteen") is a valuable aid as you make the change to organic eating.
The Dirty Dozen (always buy organic)

The Clean Fifteen (lowest in pesticides)

Strawberries

Spinach

Nectarines

Apples

Grapes

Peaches

Cherries

Pears

Tomatoes

Celery

Potatoes

Sweet bell peppers

Hot peppers

Avocados

Sweet corn

Pineapple

Cabbage

Onion

Sweet peas (frozen)

Papaya

Asparagus

Eggplant

Mango

Kiwi

Cantaloupe

Cauliflower

Honeydew melon

Broccoli
Sources:
Environmental Health Perspectives ehponline.org, posted online Oct. 31, 2002, C.L. Curl, R.A. Fenske, and K. Elgethun, "Organophosphorus pesticide exposure of urban and suburban pre-school children with organic and conventional diets
Organic Trade Association http://www.ota.com/organic/benefits/nutrition.html
Environmental Working Group – 2018 Shopper's Guide to Pesticides https://www.ewg.org/foodnews/