Oh herpes. No one wants you. But with 2/3 of people under age 50 having some form of herpes, a lot of women are dealing with this unwanted guest in their lady garden. And herpes isn't going anywhere – once you have the herpes virus, you always have the herpes virus. Herpes is one of the types of virus that is able to remain in a hidden state in our bodies (called "latent" infection) and pop out when we least want it to.
Types of Herpes
There are two types of herpes simplex virus – HSV-1 and HSV-2. HSV-1 is the virus associated with most cold sores. HSV-2 is the one associated with genital herpes. However their location doesn't really matter – you can have HSV-1 on your genitals, and while relatively rare, you can also have HSV-2 around your mouth.
How to Get Herpes
Now no one wants to get herpes, but honestly it is hard to avoid. HSV-1 and -2 are transmitted by physical contact, kissing or sexual intimacy. As one of the most common sexually transmitted infections, exposure rates are very high. To avoid exposure to HSV use condoms or dental dams when having sexual contact, and avoid direct contact during known outbreaks in a partner.
While HSV-2 is commonly transmitted sexually, it can infect the mouth as well through oral sex. Most cases of HSV-1 are contracted during childhood, but can also occur sexually. HSV-1 and -2 can both also be passed along to infants during childbirth.
Symptoms of HSV
Many people recognize the symptoms of cold sores – a watery blister near the lip (or sometimes the nose) or in the mucous membranes of the mouth. As the blister heals it forms a characteristic scab.
But herpes can also be completely silent – many people have HSV infections and never know it. This contributes to the high rates of exposure to HSV – it can be passed on even if no active blisters or sores are present.
Symptoms of an outbreak can also cause some symptoms such as tingling, burning or flu-like symptoms before the blisters appear. It is important to avoid direct contact with a partner during these times (use a condom or dental dam).
The first contact with the virus will cause the primary outbreak – usually with symptoms showing up between 2-21 days after contact. Typically this outbreak is more severe and can last longer than subsequent outbreaks.
Triggering Future Outbreaks
Any number of different triggers can lead to the resurgence of the herpes virus. Things that compromise your immune function – like lack of sleep, stress, poor diet and alcohol consumption are common triggers. Other triggers may be sun exposure, excessive heat, skin irritation or other local infections.
Diagnosing HSV
The best test is a simple swab, done in your doctor's office soon after the onset of the blisters. It can take up to a week for results to come back, so treatment is often started if the symptoms and appearance are consistent with a herpes infection.
There are blood tests available as well that can be used if HSV is suspected.
An Empowered Approach to Treating HSV
My first step in treating HSV in women is to offer assurance. You are practically a unicorn if you have never had HSV – most people in Canada do have it (and remember, once you've had it you always have it). It is a virus like any other and we need to let go of some of the negative connotations around contracting HSV.
Second, there are antiviral medications available that can help to lessen the severity of an outbreak and lower the chances of passing HSV to a partner. While I don't advocate for on going use of these medications, they can be used judiciously in women who are looking for short term support.
Of course, as a naturopathic doctor, my focus is on empowering women to make choices for their health based on knowledge and informed by science. So I like to emphasize what we, as women, can do to help control HSV and prevent outbreaks.
St. John's Wort – most commonly known as a treatment for depression, Hypericum perforatum (St. John's Wort) also has powerful antiviral properties that are effective against herpes viruses. Typically taken at higher doses for 1-2 weeks, then decreasing to a lower or maintenance dose.
Lysine – one of the more well-known treatments for HSV, lysine is an amino acid that helps to stabilize the virus and prevent reactivation. It is most often taken daily to prevent outbreaks. Many doctors also suggest consuming more lysine in the diet, and avoiding arginine – this balance supports the immune system in it's work. Below you'll find a list of foods high in lysine (enjoy lots of these!) and foods high in arginine (limit these).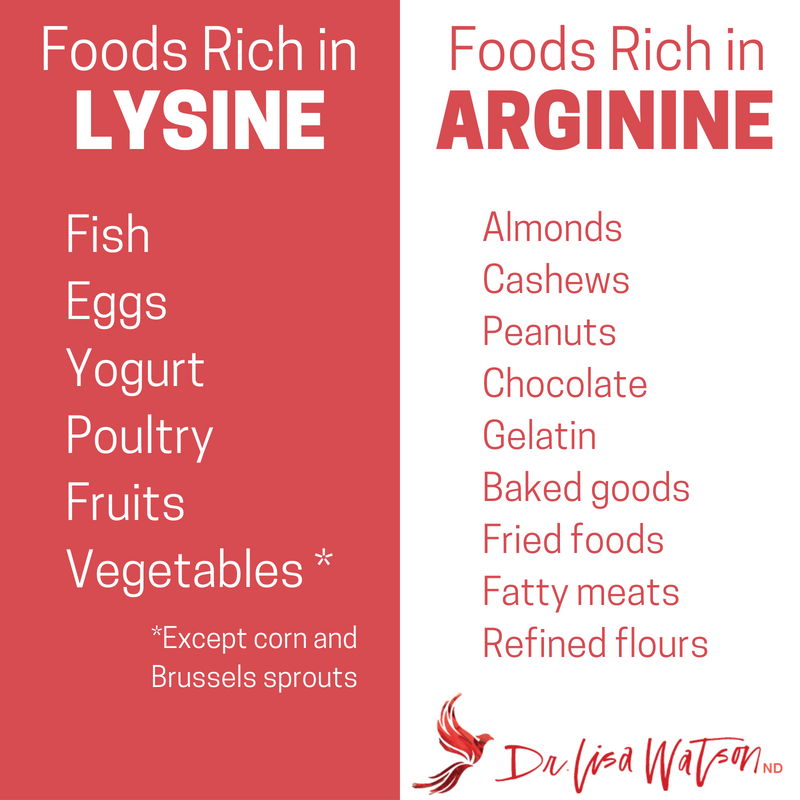 Lemon Balm – topical lemon balm is stellar at soothing and supporting the healing of cold sores and genital herpes. It is applied directly to the lesions once or twice per day during an outbreak.
Coriolus Mushrooms – mushrooms pack one hell of a punch when it comes to optimizing our immune system. Coriolus mushrooms in particular have been found to optimize immune function and support the immune system in it's battle against viruses. I suggest taking mushrooms regularly to support your immune function.
Empowered Steps
If you are struggling with recurrent HSV outbreaks, or this is your first outbreak, I hope that you feel more knowledgeable after reading this article. As always, I suggest that you work with a qualified Naturopathic Doctor to put together a plan that approaches all aspects of your health, and the health of your lady garden. If you'd like to work with me, I am happily taking new patients in my women's health focused practice in Toronto. You can book here.
Disclaimer
The advice provided in this article is for informational purposes only. It is meant to augment and not replace consultation with a licensed health care provider. Consultation with a Naturopathic Doctor or other primary care provider is recommended for anyone suffering from a health problem.