Premenstrual syndrome may hit you like a storm each month, throwing your mood and your body into chaos and misery. But does it have to be like that? We all know women who sail through their cycles with not a concern in the world. Is it possible that we all can achieve that level of hormone harmony and banish our PMS symptoms? Yes, I believe it is.
The PMS Diet
My philosophy is that health comes from the balance of three key components:
What we put into our bodies (food, alcohol, drugs, etc.)
How we move our body (exercise, flexibility, play, etc.)
The thoughts we hold in our mind-body (gratitude, self love, frustration, etc.)
With this philosophy at the core of my approach, I often suggest that women with hormone imbalances consider the impact of their diet. And in PMS your diet can have a huge impact – for good, or for bad. So lets get to it and discuss how you can have an impact on your PMS by optimizing your diet.
Quit sugar
Ladies, you know this one. But it is so damn hard to do – your body can send some pretty strong cravings for sugar when hormone imbalances associated with PMS cause your serotonin to plummet. But sugar is not going to make anything better.
Women who experience PMS eat, on average, 275% more refined sugar than women who do not have PMS. What?!! That's a ton of sugar! And women with PMS also consume between 200-500 more calories per day – typically in the forms of carbohydrates, fats and sweets. That is not going to make anyone feel better!
The main issue is that sugar increases the loss of magnesium in the urine – and magnesium deficiency is thought to be the cause of a lot of PMS symptoms, including fatigue, irritability, brain fog, insomnia as well as period cramps. Just to add to your misery, sugar also increases salt and water retention, leading to swelling and breast tenderness. Ugh.
Avoid alcohol
We're still in common sense country here, but avoiding alcohol really is something you need to do if you want to balance your hormones and eliminate PMS. While reaching for a glass of wine (or two) is tempting when you're in a PMS rage, you are not making things any better. Alcohol can inhibit your liver's ability to detoxify hormones, and can lead to higher circulating estrogen levels. This can exacerbate the imbalance of hormones that is already thought to cause PMS – high estrogen to low progesterone.  So consider making a cup of tea instead, and skip the alcohol for your own sake.
Cut the caffeine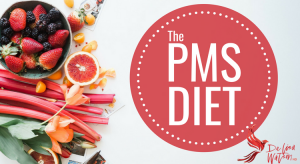 I'm really not making any friends with this article. I'm feeling like a bit of a buzz kill! But let's talk straight – hormone imbalances are strongly associated with our behaviours. And we can change our behaviours!
Drinking coffee, and other caffeine-containing beverages, has been found to be associated with PMS, and with a greater severity of PMS. If you have PMS, I encourage you to try a cycle without caffeine and see if you notice an improvement, a lot of the women in my practice have found this to have a huge impact.
Skip the salt
If you experience bloating, breast tenderness or swelling during PMS, you should check your diet to see if you are eating too much salt. Mostly found in processed food, salt can contribute to water retention, and swelling. Skipping prepared, processed and fast foods should bring your salt intake down to a balanced and healthy level.
Get complex
Breads, bagels, crackers, pasta and other simple carbohydrates are setting you up for blood sugar instability and almost guaranteeing a miserable PMS. Instead of these foods, opt for the complex carbohydrates, these are slower to digest, keep you full longer and your blood sugar stable. Women who eat more complex carbohydrates also eat more fiber, an important nutrient that promotes estrogen elimination from the body.
So banish the bread and instead go for whole grains – brown rice, oats, quinoa, millet, and amaranth are delicious. And try sweet potatoes, squash, lentils, and beans for filling complex carbohydrates.
Go green
Leafy greens are a PMS fighting superfood! A rich source of calcium and magnesium, leafy greens also support liver function, encouraging the liver to detoxify and eliminate excess estrogen. Choose your favourite leafy greens and eat them every day – kale, spinach, arugula, swiss chard or collard greens are all excellent choices!
Go fish!
Fish, and other foods that are rich in vitamin B6, are important for any woman struggling with PMS. B6, a water-soluble nutrient, is involved in over 100 reactions in our body, many of which are involved in the production of hormones and neurotransmitters. Vitamin B6 is one of the best studied nutrients for PMS, and it has been found to help restore balance for women with PMS and reduce symptoms, especially mood symptoms such as irritation, anger and sadness.
Open sesame
Sesame seeds are an excellent source of calcium, and clinical trials have found that women with the highest intake of calcium have the lowest incidence of PMS symptoms. While most studies have been on calcium supplements, increasing dietary calcium is a great place to start.
Other great sources of calcium include tofu, sardines, leafy greens, cabbage, broccoli, green beans, squash, bean sprouts, almonds, brazil nuts, quinoa, chickpeas, beans and oranges.
Beans, beans, beans!
There are many reasons why beans pack a powerful punch in treating PMS. Beans are an excellent source of magnesium, one of the most important nutrient imbalances in PMS. Taken as a supplement, magnesium can improve mood, reduce breast tenderness and relieve pain during periods.
But beans offer more than just magnesium. They also are a rich source of fiber and protein. Women who consume a mostly vegetarian diet have lower incidence of PMS and lower levels of estrogen – both benefits that can be achieved by just increasing the beans in your diet.
Boost Bacteria
Fermented foods, like kim chi, sauerkraut, kombucha and kefir all contain probiotics – healthy bacteria that can live in our digestive tracts and support our overall health. Healthy bacteria do more than just help our digestion, they also support hormone balance – especially estrogen elimination, an important component of managing PMS.
When your bacteria balance is optimal your body is able to easily eliminate estrogen. When your bacteria levels are out of balance estrogen levels increase and can significantly contribute to PMS. So try some fermented foods, or take a daily probiotic to balance your bacteria.
 Diet and More
Diet is an excellent place to start in treating your PMS.  It may seem simple, but simple things can sometimes be incredibly powerful.  Each action you take on a daily basis, each food you eat, or those foods you don't eat, all influence your hormone balance and determine whether you sail through PMS or struggle.  Once you have started with these dietary changes, if you are still experiencing symptoms, check out my top treatments for PMS, ask whether you may be experiencing PMDD or take a refresher on the hormonal imbalances of PMS.  And if you are ready to take the next step, feel free to get in touch so we can work together on resolving your PMS.
Disclaimer
The advice provided in this article is for informational purposes only. It is meant to augment and not replace consultation with a licensed health care provider. Consultation with a Naturopathic Doctor or other primary care provider is recommended for anyone suffering from a health problem.
SaveSave