I have an addiction. I don't try to hide it. It's an addiction to a sparkly plastic hoop (actually I have about 11 sparkly plastic hoops now!). It's an addiction to hula hooping and I love it.
Hula hooping began as a child's toy in 1958 and enjoyed a brief heyday through the late fifties and early sixties. But adults and teens around the world have taken this wonderful toy and given it a renaissance! We are hoopers.
I want to share with you eight reasons you should try hula hooping. It goes far beyond exercise and I want to tell you why.
1. It's a Full Body Workout
You may think that hula hooping is done mostly on your waist, and while that may be true for beginners, most hula hoopers enjoy using the hoop on their whole body. You can hoop on your chest, shoulders, hips, knees, arms, hands, feet and more. Even just hooping on your waist works as many as 30 different muscles!
2. It Builds a Killer Core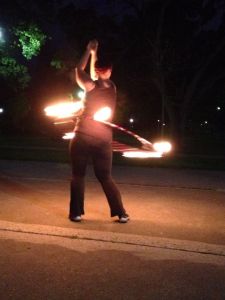 Waist hooping works your core like no other exercise. Using muscles both in your abdomen (upper and lower abdominal muscles) as well as muscles in your back you can strengthen the core as well as burn nasty abdominal fat.
3. Hooping Burns a Crazy Amount of Calories
The amazing team over at the American Council on Exercise did a study that showed waist hooping can burn over 400 calories per hour. To give you some perspective that's similar to an hour of tennis, hiking, stationary rowing or elliptical training.
4. Hooping Gets Your Heart Pumping
Cardiovascular exercise (aka "cardio", aka "aerobic exercise") results in improved heart health by both strengthening and enlarging the heart muscle, allowing it to pump more efficiently and reducing both heart rate and blood pressure. Engaging in cardiovascular exercise has been shown to have many benefits for lifelong health and can reduce the risk of death from cardiovascular disease. Who knew a hoop could do all that?
5. Hooping Improves Hand-Eye Coordination
I don't know about you, but this was something I was not expecting when I picked up my first hoop! But looking around at all the amazing hoopers in my hoop class I knew I needed to learn some tricks!   From hand hooping to doubles and escalators and vortexes, you really challenge your brain and your body and build those neural connections that will last you a lifetime. It's just like riding a bike!
6. Improves Flexibility
Hula hooping can improve flexibility of your spine, hips and entire body. Waist hooping is a rhythmic movement requiring purposeful (but not rigid!) back and forward, or side to side, movements. As you progress in your skill as a hooper you improve flexibility, not just through your core but through your hips, chest, shoulders and extremities.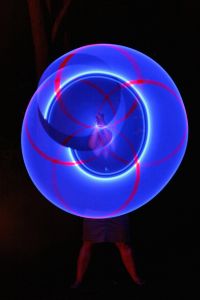 7. Connect Your Mind and Body
The relaxation response that is elicited during yoga and meditation can also be achieved with rhythmic aerobic exercise – like hula hooping! The movement of hooping can be very meditative and it's easy to spend 30 minutes with your hoop, connecting to your body and the music while relaxing and de-stressing your mind.
8. Hula Hooping Brings Happiness
There is no better reason to try hula hooping than that it is fun. There may be many many health benefits to hooping, but the reason that most of us pick up our hoops day after day is that we feel happy while we're hooping. For me hula hooping brings out a spontaneous playful side that I've brought into my life as a mother, wife and doctor. I tell people that hooping boosts my Qi – the life force inside all of us. I feel more happy and more alive when I'm hooping regularly.
And the hooping community is amazing as well! I've made friends from Toronto and around the world through hula hooping. I dare you to try it and not love it!
References:
Holthusen, Jordan, John Porcari, Carl Foster, Scott Doberstein, and Mark Anders. "ACE-sponsored Research: HOOPING– Effective Workout or Child's Play?." American Council on Exercise: Fitness. Available online at: http://www.acefitness.org/certifiednewsarticle/1094/
*All featured photos are of Dr. Watson and her hula hoops.
Dr. Watson hoops in Toronto with HooperSonic and Sugar Hoops