What do Oreo cookies, Ritz crackers, Sour patch kid candies and Heinz ketchup all have in common?  They are all vegan!
Embarking on a vegan diet can be a daunting task.  Most people assume that being a vegan means eating nothing but carrot sticks, blue-green algae and apple slices.  But, despite being by nature a 'restrictive' diet – it does not have to be a boring diet!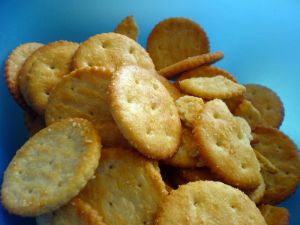 One of my favourite resources on vegan foods is from the People for Ethical Treatment of Animals (PETA).  Their "I Can't Believe It's Vegan" site lists hundreds of foods (snack foods, condiments, breakfast foods, baked goods, staples and more) that are 'accidentally vegan'.
So if you are considering veganism but are unwilling to give up your Red Berries or your BBQ Ruffles – check out this website and discover all the potential indulgences that a vegan diet can include!
*The foods mentioned in this article may not be 'healthy' foods and should therefore be consumed in moderation!
Source: PETA – I Can't Believe it's Vegan.