We all know that calcium is an essential mineral that is used by the body to build and maintain healthy bones and teeth. But did you know that calcium is also used for blood clotting, nerve conduction, muscle contraction, regulation of enzymes and cell membrane function? That is one useful mineral!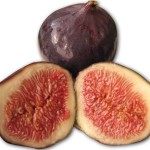 If we aren't consuming enough calcium in our diet, our body will take the calcium it needs from our bones – leading to osteomalacia (softening of the bones) and, along with other factors, to osteoporosis. If children don't consume adequate calcium they will not have healthy bone mineralization which can lead to rickets and lifelong low bone mineral density.
Calcium and a vegan diet
One of the concerns people express when they learn I'm raising my children as vegetarians is "how are they getting calcium if they aren't drinking milk?". It's impressive how well the dairy industry has marketed milk as the only dietary source of calcium! But there are many plant-based sources of calcium – and it's not hard to reach your daily calcium needs by eating these common (and delicious!) foods – usually just 2-4 servings a day is more than enough.
Daily Recommended Allowance of Calcium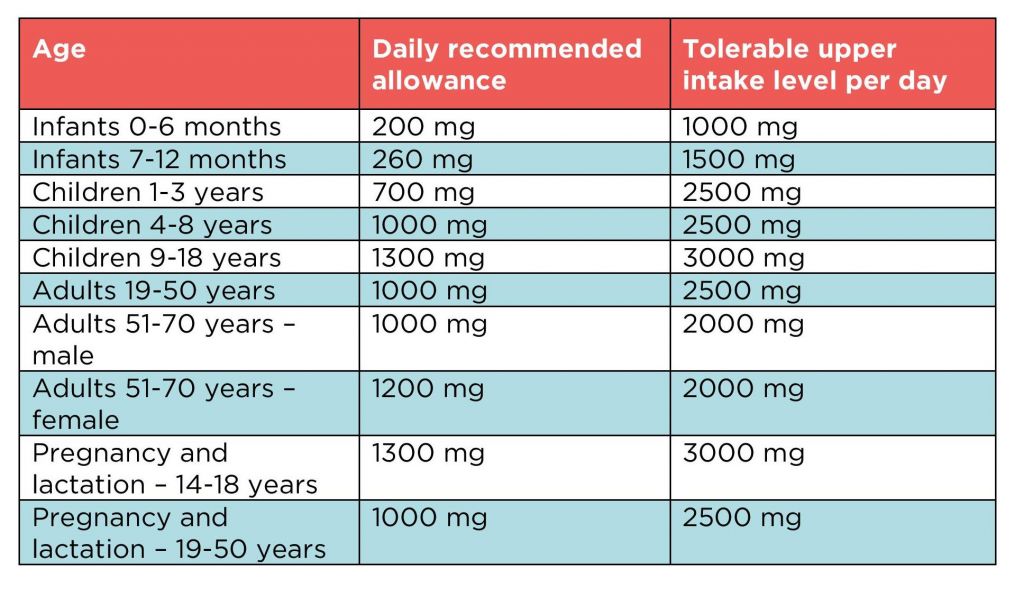 To enhance absorption of calcium, you should also make sure you are getting enough vitamin D. That means 20 minutes of direct sunlight every day from May-October and a daily vitamin D supplement during Canadian winters (November to April). Inadequate stomach acid also reduces calcium absorption. Discuss with your Naturopathic Doctor whether this may be an issue for you.
40 Vegan Sources of Calcium
Vegetables (per cup)
Bok choy (cooked) – 330 mg
Kale – 180mg
Bean sprouts – 320 mg
Spinach (cooked) – 250 mg
Collard greens (cooked) – 260 mg
Mustard greens (cooked) – 100 mg
Turnip greens (cooked) – 200 mg
Swiss chard (cooked) – 100 mg
Seaweed (Wakame) – 120mg
Okra – 130 mg
Broccoli – 45 mg
Fennel – 45 mg
Artichoke – 55 mg
Celery – 40 mg
Leeks – 55 mg
Nuts, nut butters and seeds
Almonds (1/4 cup) – 95 mg
Brazil nuts (1/4 cup) – 55 mg
Hazelnuts (1/4 cup) – 55 mg
Almond butter (1 tbsp) – 43 mg
Sesame seeds (1 tbsp) – 63 mg
Tahini (1 tbsp) – 65 mg
Grains
Cereals (calcium fortified, ½ cup) – 250 to 500 mg
Amaranth (cooked, ½ cup) – 135 mg
Brown rice (cooked, 1 cup) – 50 mg
Quinoa (cooked, 1 cup) – 80 mg
Legumes and beans
Chickpeas (cooked, 1 cup) – 80 mg
Pinto beans (cooked, 1 cup) – 75 mg
Soy beans (cooked, 1 cup) – 200 mg
Tofu (soft or firm, 4 oz) – 120 – 400mg
Tempeh (1 cup) – 150 mg
Navy beans (1 cup) – 110 mg
White beans (cooked, 1 cup) – 140 mg
Fruit (per cup)
Figs (dried) – 300 mg
Apricots (dried) – 75mg
Kiwi – 60mg
Rhubarb (cooked) – 350 mg
Orange – 70 mg
Prunes – 75 mg
Blackberries – 40 mg
Miscellaneous
Blackstrap molasses (1 tbsp) – 135 mg
Disclaimer
The advice provided in this article is for informational purposes only. It is meant to augment and not replace consultation with a licensed health care provider. Consultation with a Naturopathic Doctor or other primary care provider is recommended for anyone suffering from a health problem.
References:
Health Canada. Vitamin D and Calcium: Updated Dietary Reference Intakes. http://www.hc-sc.gc.ca/fn-an/nutrition/vitamin/vita-d-eng.php. Accessed January 31, 2012