One of the most common symptoms of endometriosis is one that is not being adequately assessed or managed – fatigue. A 2018 study found that a majority of women with endometriosis experienced fatigue, a significantly higher number than in a control group of women.
Fatigue and Endometriosis
Women often report fatigue to their doctors, and many are disappointed by the lack of concern, or downright dismissal, of their symptoms. Women in my practice have heard:
"We're all tired"
"You're just getting older. Feeling tired is part of aging."
"Tired is just another word for being a parent."
"Try getting more sleep, you'll feel better after a good night's sleep."
"I could give you some Ambien…"
The reasons why women with endo have more fatigue are likely different, depending on the woman's experience. Some common contributing factors identified in the study include insomnia and sleep loss, depression, pain (causing both depression and sleep loss), and significant stress. Living with a chronic pain condition like endometriosis is likely to be a drain – on your body, on your mind, on your emotions, and on your energy.
Managing Fatigue in Endometriosis
Unfortunately, many doctors don't screen women with endometriosis for fatigue, and are not offering treatments to women who do report fatigue. But there are some things you can do.
Remove gluten from your diet.  Studies have found that eliminating gluten from your diet can reduce pain associated with endo for about 75% of women.  Removing gluten can also reduce brain fog and improve energy.  I suggest doing at least 6 weeks gluten free to see how it can impact your endo, and your energy.
Take an omega 3 fatty acid supplement.  Used by the body to reduce inflammation, omega 3s also help to keep your nervous system, including your brain, functioning optimally.  Studies suggest that women with endometriosis take between 1-3g of omega 3s per day.  If you choose a fish based omega 3, be sure to choose one that is free of mercury, PCBs and other contaminants.
Get a good night sleep.  There is nothing that will zap your energy more than a poor night sleep.  And if you can't sleep, consider taking a melatonin supplement.  One study found that taking melatonin decreased pain scores in women with endo by almost 40% – not to mention how it impacted their sleep! 
Try meditation.  It's a bit cliché, but seriously, if you aren't meditating, why not??  The benefits of meditation are almost too numerous to count, but improving sleep, calming stress, improving mood and supporting energy are certainly among them.  Meditation doesn't have to be hard – you can download free, or inexpensive apps, and meditating for just 10 minutes a day can have positive benefits.  So give it a try, seriously! 
See your Naturopathic Doctor.  Ultimately, fatigue is a real symptom of endometriosis.  It may be overlooked by many doctors, but it should not be overlooked by women.  You have the capacity to abundant energy, to share your magnificent self with the world.  When you work with an ND you get the ultimate in personalized medicine.  Your ND will help you to develop a strategy to treat your symptoms of endometriosis – including fatigue. 
Disclaimer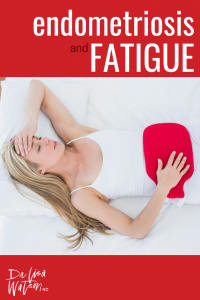 The advice provided in this article is for informational purposes only.  It is meant to augment and not replace consultation with a licensed health care provider.  Consultation with a Naturopathic Doctor or other primary care provider is recommended for anyone suffering from a health problem. 
Select References
Ramin-Wright A, Kohl Schwarts AS, Geraedts K, et al. Fatigue – a symptom in endometriosis. Human Reproduction,33(8);2018:1459-1465
Schwertner A, Cocneicao Dos Santos CC, Costa GD, et al. Efficacy of melatonin in the treatment of endometriosis: a phase II, randomized, double-blind, placebo-controlled trial. Pain. 2013;154(6):874-81.
Marziali M, Venza M, Lazzaro S, Lazzaro A, Micossi C, Stolfi VM. Gluten-free diet: a new strategy for management of endometriosis related symptoms? Minerva Chir. 2012 Dec:67(6):499-504.